DELTA FRATERNITY AND SORORITY INT'L SEC NATIONAL REGISTRATION NO. CN200826622 registered by Cagayan de Oro City Council, President- ARCHIE CABINGAS ELLO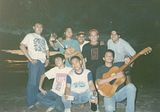 Photos of the Memberlist Pages are now working! Will add more members later.
It's my pleasure to welcome you on our cyber home. This site is dedicated to all members of the Delta International Fraternity and Sorority all over Philippines. I became one of the members on December 1994 Xavier University Chapter. Since, then I never stop being one. I am proud and honor for what we believe.

Delta International Fraternity and Sorority, is a humanitarian service founded on August 21, 1961 at the University of Santo Thomas. Founded by Emmanuel Uy Guangco.

The main purpose of this site is to reunite all members of the DELTA International Fraternity and Sorority who have no means to communicate physically to the new and old members.

I the Webmaster would appreciate if any members or chapter would like to share and post any messages regarding the fraternity and sorority upcoming or past events.

Please, bear with me for making this page. I have so much to post but I need more research about our group.

Your suggestions and comments are always welcome. Thank you for your visit and come back for more updates!!!
Any Chapters or Members that would like to post their contact information just e-mail it to me so I can post it.
*Full Name
*Chapter
*Batch year you've accepted
*School
*Email
*Cell # (optional)
* MOST IMPORTANT : PICTURE
And for those who did not submit their picture yet please kindly send it soon. I would really appreciate it .